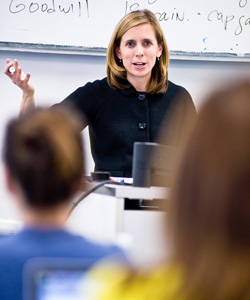 Tax LLM Program
According to US News, Loyola's Tax LLM Program is the top-ranked Tax LLM program west of the Mississippi. Its faculty includes 3 of the 15 most SSRN-downloaded tax professors in the United States and some of the most distinguished tax practitioners in southern California.

Loyola Law School, of which the Tax LLM Program is a part, is consistently ranked among
• the top 10 nationally in "best classroom experience" by Princeton Review, producing
• the most partners in the 10 largest LA law firms (Martindale-Hubbell, 11/2009, firm partners who graduated 1984 or later),
• the 2nd largest number of partners in the Los Angeles offices of the NLJ 100 (the 100 largest law firms in the US), and
• the 25th largest number of partners in the NLJ 100 nationwide (Martindale-Hubbell, 9/2011, firm partners who graduated 1986 or later) in the past quarter century.

Importantly, our Tax LLM program is not expected to subsidize our JD program. This allows us to be extremely selective in admissions, keep our classes small, and offer unusually high quality instruction.
Facts that matter:
Our Tax LLM program is more selective than our JD program. We believe this to be unique among Tax LLM programs.
Average enrollment in advanced tax classes is currently 12. This allows us to offer personalized, rigorous instruction, customized to each student's needs.
Experiential learning: Tax LLM students have numerous opportunities to develop practical tax problem solving skills. We offer, among other, an IRS Small Case Tax Clinic, a Nonprofit Tax and Transactions Clinic, a Tax Law Practicum, a Taxpayer Appeals Assistance Clinic so they are ready to hit the ground running when they start practice. In addition to substantive tax law, our students learn how to perform tax research and how to use Excel spreadsheets for tax analysis. They also practice drafting, structuring and presenting to clients in several experiential learning courses and clinics.
The quality of our student body and small class sizes have also enabled us to attract some of the best advanced tax instructors available anywhere; most are nationally recognized experts in their fields.
Published articles by Loyola's Tax Faculty