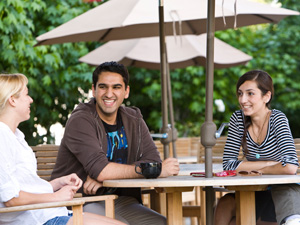 Admitted Student Events
Registration is now open for Law Start II! Details about this two-day program can be found here: www.lls.edu/lawstart
We offer many opportunities for admitted students to visit campus!
Student Host Days allow admitted students to attend a law school class with current students, tour the campus and have lunch with students, faculty and administrators.
Our Preview Day offers admitted students the opportunity to spend a half day on campus attending mock classes, student panels, campus tours and a "Taste of LA" reception.
Invitation to events are sent by email and we hope you can attend our special programs. We are also happy to arrange individual visits if your schedule does not permit attending one of these events. Please contact Sarah Keiski at sarah.keiski@lls.edu or 213.736.8128 to arrange a private visit.
Feel free to preview other events at Loyola and contact us if you would like more information to attend.
We look forward to seeing you on campus!
Office of Admissions
OFFICE HOURS
M-Th: 9 am-6 pm
F: 9 am-4 pm
CONTACT INFORMATION
Founders Hall 154
919 Albany St.
Los Angeles, CA 90015