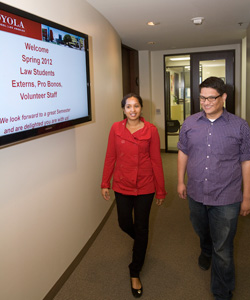 The Center For Conflict Resolution
The Center For Conflict Resolution provides mediation, conciliation and facilitation services, and conflict resolution training to the communities throughout Los Angeles County (particularly those adjacent to the Law School), and to students, faculty and staff at Loyola.
These services are provided in English, and Spanish. The Center's services are confidential. You may reach the center by calling (213) 736-1145.
IF YOU ARE INTERESTED IN OUR FALL 2013 MEDIATION TRAINING, PLEASE CLICK ON THE "FOR THE COMMUNITY" LINK TO YOUR LEFT AND SELECT THE MEDIATION TRAINING LINK ON THAT PAGE.

The Center For Conflict Resolution
CONTACT INFORMATION
Main Office
800 S. Figueroa St.
Suite 1140
Los Angeles, CA 90017
Mailing Address
919 Albany St.
Los Angeles, CA 90015
Office Hours
M-F: 9 a.m. - 6 p.m.
Evenings and weekends by appointment