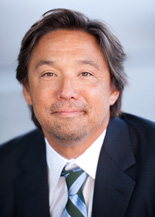 Cyn Yamashiro
Clinical Professor of Law
Kaplan Feldman Executive Director
Center for Juvenile Law and Policy
BA, University of California Los Angeles
JD, Loyola Law School
Background
Professor Cyn Yamashiro is the founding executive director of the Center for Juvenile Law and Policy at Loyola Law School. He is an alumnus of Loyola Law School and of UCLA where he earned his BA in Economics. Professor Yamashiro teaches classes in juvenile law and trial advocacy. He has commented on cases and trends in juvenile law for television, radio and print media and frequently lectures on juvenile delinquency law. He has published in the area of indigent defense delivery systems and how different systems effect dispositional outcomes.
Prior to his appointment at Loyola Law School, he served as Deputy Public Defender III with the Los Angeles County Public Defender's Office where he tried 52 cases to a jury and litigated more than 200 bench trials in municipal, juvenile and superior court. During his 10 years with the Office, Yamashiro served as Long Cause Felony Trial Attorney in the Los Angeles Criminal Division, Deputy in-Charge with the Juvenile Division in Compton and Felony Trial Attorney at the LAX Courthouse in Los Angeles. Earlier in his legal career, Yamashiro worked with the San Diego County Public Defender's Office, and Minami, Lew & Tamaki in San Francisco. While in law school he clerked for the International Labor Rights and Education Fund in Guatemala City, Guatemala and the American Civil Liberties Union of Southern California in Los Angeles.
Publications
Kids, Counsel and Costs: An Empirical Study of Indigent Defense Services in the Los Angeles Juvenile Delinquency Courts, Criminal Law Bulletin (forthcoming 2013) (with Tarek Azzam and Igor Himelfarb).
Collateral Consequences of Juvenile Delinquency Proceedings in California: A Handbook for Juvenile Law Practitioners